New version released for MockupUI prototyping software
We are happy to announce the availability of new version of MockupUI - an impressive utility for creating UI mockups. This release contains several important changes and new capabilities that improve usability and enhance the end result.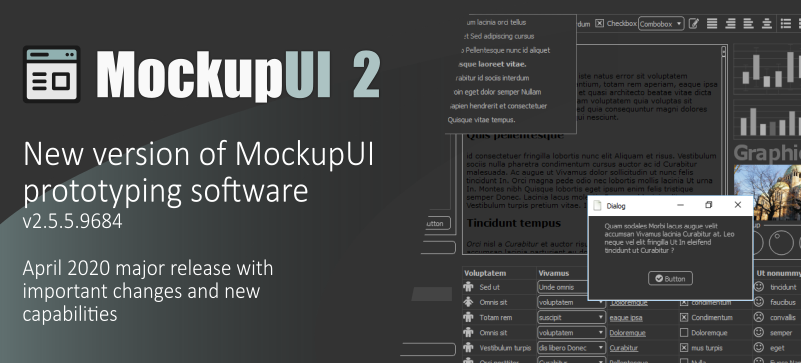 Generate interactive presentations
Starting with version 2, MockupUI offers the possibility to build clickable presentations from designs and annotations. All you need to do is to define links between widgets and target pages. Page linking can be set for any widget that has a page link selector which specifies the taget page. Feature highlights:
Link any widget to a page

Generate clickable HTML demos

Show widget tooltips when hovering with the mouse

Generated presentations can be viewed in any web browser

Multi-page mockups can be embedded into a single file, simplifying sharing
Widget library extended
Widget library re-organized into categories and several new shapes and widgets were added.
Icons library: Font Awesome (a set of 368 web icons), Material Design (909 icons from the Google web font), Windows 10 flat design icon set (629 icons). Icons can be included in mockups as stand-alone stencils or they can be used in buttons, tables, trees, lists or toolbox widgets. Geometry, outline and fill properties are editable.

New shapes available: Basic graphic shapes (rectangle, ellipse, line, parallelogram, polygon, rhombus, star, trapezoid), arrows and callouts. Shapes geometry and colors can be changed and text can be added at the center of the shape.

Toolbar widget: A new widget that can contain icons, comboboxes, checkboxes, hyperlinks and control buttons
Design area usability improved
Select, move, copy, paste or delete multiple objects at once

Zoom in, out or fit for easier editing

Snap to grid for easier widget alignment
About MockupUI
MockupUI is a user interface mockup and wireframing tool for developers and enterprises providing a simple and easy to integrate solution for designing desktop user interfaces. The tool is built on Qt technology, the popular multi-platform framework.
You can download the latest package for MockupUI from here. It is compatible with any PC running 64 bit versions of Windows 7, 8 or 10. Please note that starting with version 2, the 32-bit platforms are no longer supported.
To get extensive information about the new features check out the What's new section of the online reference manual.