Contents
About the manual
This is the MockupUI Reference Manual. It describes the features found in the application and helps you find information about a tool. This reference manual contains examples that illustrate the usage of MockupUI.
The manual is divided in several sections, each focusing on a different part of MockupUI. Clicking on a section heading will display its contents.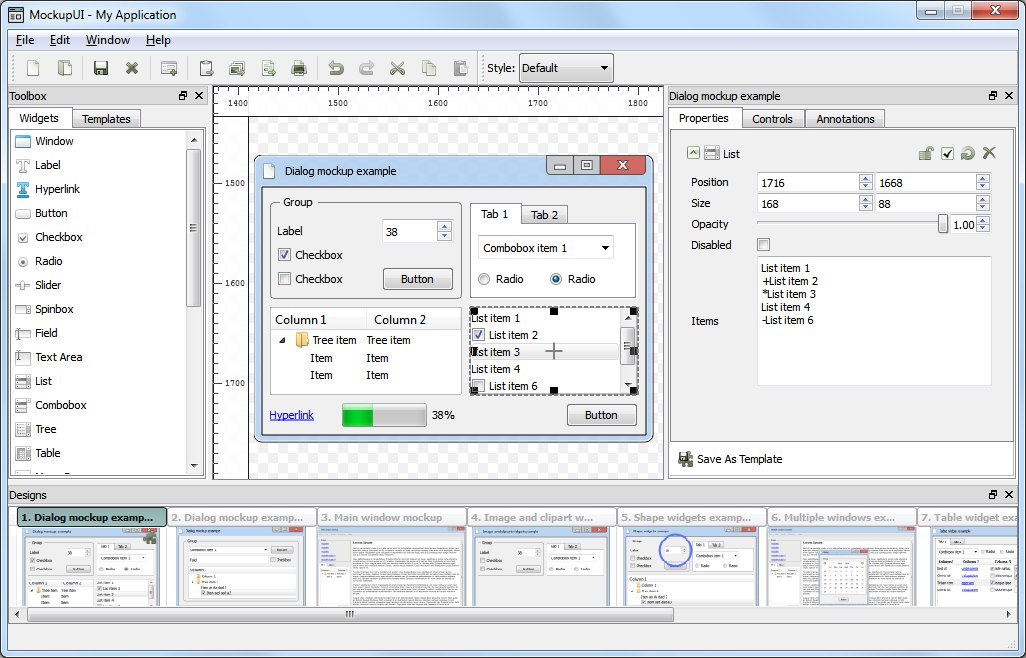 User interface
An overview of the MockupUI user interface (menus, shortcuts, viewers and editors).
UI widgets
This section lists the available desktop UI widgets ranging from basic buttons and labels to tables, trees and graphic widgets.
Draws a UI table widget. Find out how to
Populate tables with data in a CSV format.

Add buttons, comboboxes, checkboxes, icons and hyperlinks to cells or entire columns.

Highlight or disable individual table cells.
Design simple trees or multi column tree tables.

Add content to trees and tree tables by simply indenting CSV lines.

Easily add buttons, comboboxes, checkboxes, icons and hyperlinks to items or columns.

Tick/untick cell checkboxes individually.

Highlight or disable individual tree items.
Graphic widgets
Working with widgets
In this section you will find out how to:
Annotations
Add descriptions and notes to designs and generate complete specification documents.
Adding notes. Find out how to add descriptions and notes to designs.

Formatting notes. Learn how to format text notes as bold, italic, underline, fonts, size and color, how align paragraphs and create bulleted lists.

Exporting notes. Describes how to generate and preview documents from your designs and notes.
Visual styles
Change the visual appearance of widgets.
Templates
Save designs as templates and use them to create new designs.
Exporting
Describes how to export designs from MockupUI.
Project files
This section describes how to create new projects and how to save/load designs from MockupUI .mui project files.
Setup
More help
Find out how to access this reference manual from MockupUI and how to get more help with the product.